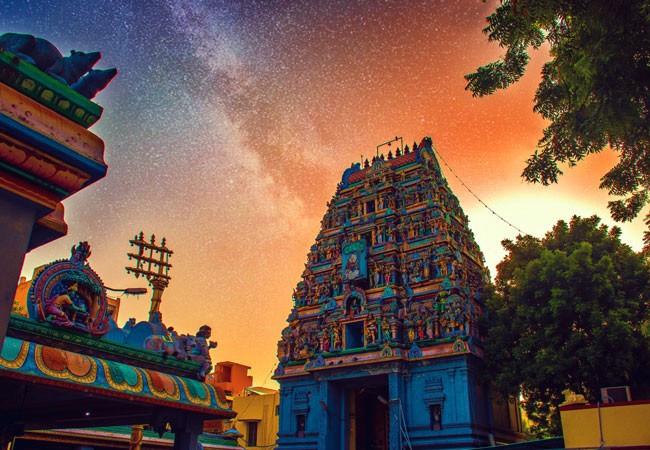 Why Visit Chennai?
Fast Facts
General Information About Chennai
People & Language
Currency
Weather
Culture & Heritage
People
History
Architecture
Traditional Attire
Music & Dance
Practical Info
Getting Here & Around
How to Get to Chennai
Getting Around Chennai
Health & Safety
Dos and Donts
Why visit Chennai?
Chennai is a vibrant city, one that is full of growth and opportunity. Located on the Coromandel Coast, which trails the Bay of Bengal in South India, Chennai is the capital of the Indian state of Tamil Nadu.
Another thing to add to the bank of Chennai facts: The people of the region are known as "Tamils" and they also speak their own language of the same name. Chennai may have grown out of the British settlement of Fort St. George, but it's a city that proudly celebrates South Indian culture and tradition.
The area is spread out on a flat region known as the Eastern Coastal Plains and has an average elevation of 7m above sea level.
Even though Chennai has the reputation for being an industrial town, you'll find that it's one of India's least congested and polluted cities, with stunning temples dating back to the 7th century and numerous museums and art galleries scattered around the city.
Did you know that Chennai also has its own film industry? The Tamil film hub known as Kollywood is based in Chennai and is one of the top film industries in the country. It has even gained an international reputation in recent years.
Chennai might be India's 4th city, but it's certainly one of the most unique in the country. You'll have to see Chennai to believe it.
Fast Chennai Facts
Chennai is India's 4th largest city in India, located in the south in the state of Tamil Nadu, and is one of the country's largest industrial, cultural and economic centres.
Chennai is famous for its automobile industry and also has a budding film industry as well.
The lingua franca in Chennai is Tamil.
To find out more information about Chennai, please read on!
General information about Chennai
Chennai has 6 million residents, which make it India's fourth most populous city, however, despite its high population, which just grows by the year, and its industry, it's actually one of India's lesser congested and polluted cities.
Even though you'll find monuments in the present capital of Tamil Nadu that are over 1000 years old, Chennai as a city is rather young.
In fact, Chennai began life as Madras, when it was founded in 1639 it was the first settlement of the British East India Company. Since then, the city, which was comprised of hundreds of villages, has blended together to form the site of today's Chennai, and continues to grow and expand each year.
Chennai's name change arose in post-colonial India, after a long process that has been going on all over the country where India's cities and states were renamed. 1996, Madras replaced its colonial name with Chennai, just shortly after Bombay also changed its name to Mumbai. Although, an interesting snippet from Chennai facts is that the airport still uses the word Madras in its name.
The Tamil capital is known as the 'Gateway to the South', for its accessibility to Sri Lanka and the rest of South India, but it's also well-known for the local industry and vibrant local culture. You'll find Chennai and its surroundings are vastly different from northern India, especially since the district of Chennai and surrounding Tamil Nadu embrace a unique culture and language that's different to the Hindi speaking part of the country.
People & Language
The official language spoken in Chennai is Tamil, but English and Telugu are also spoken in the city. The majority of the population are Tamils, a Dravidian ethnic group found in South India and Sri Lanka.
People from Chennai are Chennaite, and present day statistics show that the current population of Chennai is around 6 million. The city has shown substantial growth and expansion, going from India's 6th largest city in 2011 to the 4th in 2014.
Chennai's demographics show that the majority of the people are Tamil, with the next largest group being Telugus, another Dravidian group. Other minorities in the city include Marwaris, Parsis, Sindhis, Oriyas, Goans, Kannadigas, Anglo-Indians, Bengalis, Punjabis and Malays.
While northern India has experienced conflict between Hindu and Muslim communities, Chennai is not only known for its religious diversity, but it is also known for its tolerance towards other communities.
More Chennai facts, this time about religion! Hindus make up the majority of the residents of Chennai, but you'll also find Muslims, Christians and Jains.
Currency
Since Chennai and the State of Tamil Nadu are in the Republic of India, the money used in Chennai is the Indian Rupee.
The current exchange rate places $1 around 60 rupees.

Weather
Chennai's climate is hot and humid, where the summer temperatures can soar up to an extreme 38-42 degrees centigrade.
However, in the autumn and winter, the north-east monsoon in Chennai leaves the city bombarded with heavy rains, which can be a problem for travellers. However, the plus side is that the temperature in the winter rarely drops below 20 degrees.
Travellers should check the weather in Chennai in the forecast before travelling, especially if you're going to be in Tamil Nadu during the monsoon season.

Culture & Heritage
Chennai's culture and heritage is unique when compared to other Indian cities. Its role as the 'Gateway to the South' places it in a unique position. Not only is it a cosmopolitan and modern city, but its unique population blend has led to Chennai's buzzing cultural landscape, with music, film and dance festivals taking place throughout the year.
Chennai has become a hub of Tamil culture, and you can find traditional art, music and dance from Tamil Nadu all over the city. The capital of Tamil Nadu manages to blend the diverse cultures with the old and new to create a colourful and exciting city, whose spirit and vibrant cultural life make it one of India's more interesting cities.
People
The people of Chennai are mostly Tamil, with a sizeable Telugu, Malay and Sri Lankan Tamil community in the city. Because of Chennai's colonial history, along with its role as an important trading hub, means that the city has a diverse community mixed up with Anglo-Indian, Bengali, Punjabi, Gujarati and Marwari minorities from the provinces of Bihar and Uttar Pradesh.
Due to Chennai's growth and flourishing local industry, the city also has a rich expat community with a portion of Chennai's residents hailing from the US, Europe and East Asia, thanks to the industrial and IT job opportunities found in the city.
Chennai manages to balance its Tamil traditions with a modern cosmopolitan attitude. The residents of the capital of Tamil Nadu are famed for their warmth and hospitality.
The local culture in the Tamil community has deep rooted customs and beliefs in brotherhood and mutual respect, which makes Chennai a city that welcomes its visitors.

History
Chennai started life as a cluster of small villages around the Coromandel Coast on the Bay of Bengal. The settlement in the region dates back to over 1000 years, as testified by the 7th and 8th century temples that still stand in the city centre, but the founding of today's Chennai can be attributed to the British.
The brief history of Chennai is thus, the English merchants from the British East India Company established a factory and a trading port in the 17th century, in a colony named Fort St. George. It became a major hub for the British, and expanded to include the surrounding villages such as Madraspatnam, which gave the expanding city its name until the 1990s.
The British were not the first colonials to arrive in Chennai, the Portuguese arrived in the 16th century, setting up a small colony called São Tomé, and the Dutch came at the beginning of the 17th century, and set up their colony near Pulicat. However the British Fort St. George expanded into Madras.
Once India gained independence, Madras State became Tamil Nadu, and in 1996 Madras's name change left us with the city of Chennai we know today. In the 20th century, Chennai is now a booming industrial town that is still expanding and growing importance.
Architecture
Because of Chennai's eclectic heritage, the city has picked up a variety of architectural styles, from the ancient Dravidian Temples built by Pallavas through to the buildings left behind from the colonial settlements, like the numerous churches dotted around modern day Chennai.
The architecture in Chennai is also characterised by more modern structures, like the early 20th century art deco buildings left over from the British Empire, through to the Modernist style that rose after India gained independence, and not to mention Chennai's skyline that is now filled up with high-rises and modern structures.

Traditional Attire
The people of Chennai are a rather traditional, so clothing tends to embrace the local customs and value system. Women in South Indian families are respected and held in high regard, so most of the women in Chennai wear the traditional sarees, often finished off with exquisite designs and flowing fabrics.
You'll also see more and more women wearing matching trouser suits made up of hareem style pants coupled with a long tunic and a scarf (dupatta). These suits are called Salwar Kameez and are a popular option for Indian women looking for something that's both traditional and a little easier to run around in than the usual saree.
Traditional dress in Chennai for men is a dress called veshti (lungi) or a doti and a shirt, but now that the city has modernised so much, people have started to wear western style dress, especially in the urban areas, although the more traditional parts of Chennai, you'll find the local population prefer traditional dress in place of t-shirts and jeans.
Music & Dance        
Chennai holds a month-long music season in December, and has even earned the reputation for being one of the world's largest cultural events.
As part of the music season, performances of traditional Carnatic music are held  around the city, involving hundreds of artists.
However, you can find classical music productions all over Chennai, like the performances given by the Madras youth choir, who are the oldest Indian choral music group in the country.
And if you prefer something on the more modern side, then are a number of student and professional bands following in western footsteps. Music and dance in Chennai can be found everywhere you look in the city.
Chennai is famed for its classical Indian dance, most notably Bharatanatyam, the official dance for the state of Tamil Nadu. One of the most important cultural centres  dedicated to the dance is located on the south of the city.
Practical Info
If you need to know what you need to travel to Chennai, then look no further. Here at Elements Hostel, we can give you some practical information for travelling to Chennai, like coping with immigration through to health and safety. Check out some of our practical Chennai facts below.

Getting Here & Around
Chennai is well connected when it comes to transport. Chennai International Airport is only 15 kilometres south of the city centre and is easily accessible by public transport. There are a number of direct flights to Chennai coming in from Europe, Asia and the United States, making it the third busiest airport after Mumbai and Delhi.
Getting to and from Chennai airport is perhaps most easily done by taxi, but there is also a train across the road from the airport (Tirusulam) and the suburban trains will take you to Egmore Station in 40 minutes. There are also bus services to the city centre as well.
There are also train services to Chennai from most of the big Indian cities, as well as bus connections that are great for those coming from other parts of India. The Chennai Mofussil Bus Terminus is one of the most important and prominent bus stations in Asia, and links travellers up with all the intercity buses departing Chennai.
When in Chennai, the best way to get around is to hop into a three-wheeled auto rickshaw, however, the rate for travelling in one of these is high, especially the rates quoted to foreigners, which is often more than double. It's advisable to negotiate the rate prior to the journey and learn to use your haggling skills. You can also ask someone at the Elements Hostel to get a rickshaw for you and negotiate a price before you get in, or at least get them to switch the meter on.
Chennai is a great city in terms of transport. It's not only the 'Gateway to the South', but the capital of Tamil Nadu, so as a transport hub, you can expect it to be a city with good infrastructure.
The transport network in Chennai manages to be user-friendly, as well as eco-friendly while covering most of the city. Despite the high population, Chennai has managed to keep its pollution rate down.
Getting around Chennai is easy. The cheap option to get around is by bus, which has good coverage to most parts of the city, including the outer reaches of Chennai.
You'll also find there is a suburban railway network, along with private minibuses and maxi cabs.
We can also help you out with car and rickshaw rental in Chennai, courtesy of our partners Chennai Garage.
How to get to Chennai
By Plane: Chennai International Airport is India's third largest airport and serves both international and domestic flights. The airport has direct connections to Europe (Frankfurt, London, Brussels), Asia (Bangkok, Singapore, Kuala Lumpur, Penang, Hong Kong, Mauritius, Seychelles, Sri Lanka), Middle East (Abu Dhabi, Dubai, Bahrain, Doha, Dammam, Jeddah, Kuwait, Muscat, Qatar, Riyadh and Sharjah), as well as connecting flights to New York and other cities in the US. For domestic flights, Chennai links up with all main Indian airlines, making it easy to get to from other cities in India.
More information on Chennai International Airport:
https://www.chennaiairport.com/
By Train: There are two train stations in Chennai serving long distance trains – Chennai Central and Chennai Egmore. You'll find daily trains running from most of the major Indian cities, like Mumbai, Bangalore, Delhi, Kolkata, Hyderabad, among others, not to mention there are a number of local train services covering the state of Tamil Nadu. For long distance trains to big cities like Mumbai or Delhi, it's a good idea to buy a ticket in advance.
More information on Indian Railways: http://www.indianrail.gov.in/
By Bus: Another interesting found from the Chennai facts bank is that Chennai Mofussil Bus Terminus is one of Asia's largest bus station, and you'll find hourly bus services here to cities and towns in Tamil Nadu and the surrounding region, like to Pondicherry, Tirupati, Coimbatore and even air-conditioned coaches are available for service to Bangalore, Trivandrum and Hyderabad.
More information on intercity busses: http://www.tnstc.in/
By Car:  Chennai is well connected to other Indian cities by 5 national highways going towards Kolkata, Pondicherry, Bangalore, Madurai and Tiruvallur, however, foreigners visiting India are advised not to drive, since Indian traffic can be rather unpredictable and chaotic for the uninitiated. However, if you like an adrenaline rush, we can help you out with rickshaw or car rentals in Chennai, since we're partnered up with Chennai Garage who specialise in renting and servicing local Indian vehicles.

Getting around Chennai
By Bus: Buses are the main form public transport in Chennai, and in a city so vast, with such a high population, there are literally hundreds of routes around the city. Most locals opt to go by bus, since it's cheap and efficient. Fees often start at around 4 INR a trip on standard buses, while air conditioned buses or deluxe expresses are pricier, but are still cheap when compared to European or US prices.
Navigating Chennai by bus can be a little daunting, since people will hang off the sides and jump on and off the bus while it's still moving. If you still want to brave the bus, then you can plan your route more easily with this site: http://busroutes.in/chennai/.
By Rickshaw: Travelling by auto-rickshaw is an iconic image many conjure in their heads when picturing transport in urban India. Also known as tuk-tuks, these three wheelers are a lot of fun to travel in, but because of the high prices many opt for an alternative like a bus to travel around in. The minimum charge for riding a rickshaw is INR 25, and INR 12 for every 1km. However, some rickshaws will charge foreigners a lot more. It's also worth noting that at night, the fare increases by 50%.
By Taxi: Not all taxis are created equal in Chennai, and it's important to highlight the difference between call taxis and tourist cabs. They're both taxis, but the latter will charge inflated prices, and most tourists won't know the difference! Call taxis are ordered in advance, and you can find a list of reputable numbers here: http://www.chennai.com/calltaxi1.html. The average price should cost you around INR 150 for a basic fare covering 4km and INR 15 for each additional kilometre. Don't just hail a taxi on the street, because you will get ripped off.
By Suburban Railway: There is a rail system that connects Chennai's city centre with the suburbs and is perhaps the closest form of transport resembling a metro network. However, this suburban railway is one of India's oldest, which makes it a little uncomfortable. You're more likely to find commuters huddled together at rush hour than tourists exploring the city. However, it is very cheap to travel by suburban railway, where first class tickets start at around INR 42.
There are four lines on the network operated by Southern Railway, spreading out to the furthest fringes of the city.
By Metro: Chennai might not have a functioning metro network at present, it should be opening later this year. The new metro will be a two corridor system that will cover a length of 45km. Once the metro is ready, it will be the first metro line in India to integrate all transport systems and will reduce the current commute time down by 75%.
More information, updates and transport in Chennai facts can be found here: http://www.chennaimetrorail.gov.in/
By Shared Auto: If you want the rickshaw experience at a budget price, then you should try one of Chennai's many shared auto rickshaws. This is an affordable way to discover Chennai, since the minimum charge is just INR 5 and they're also a vibrant form of transport in the Tamil capital. These shared autos carry around 10-15 people each.
By Walking: If you like playing Russian roulette with your health and safety then walking in Chennai is for you. It costs nothing, except maybe your life. You find the pavements in Chennai are either crumbling or non-existent, not to mention there are virtually no designated pedestrian crossings, so you're likely to be run over by a rickshaw, and since the air is rather polluted, it's not particularly nice to walk for miles in Chennai.
Health & Safety
When compared to other Indian cities, Chennai is a relatively safe city with a lower level of crime. The main issues visitors to Chennai are likely to come across are pickpocketing and beggars, who can be pretty aggressive when targeting foreigners. Another point of caution for first time visitors is to be aware of unruly drivers in the city.
Concerning health issues, Chennai's main issue lies in its climate of extreme hot weather in the summer and its heavy monsoon season. Visitors should take care of dehydration issues and health problems connected with extreme heat. Also, there is higher risk of bacterial infection and diseases during the monsoon seasons, so it's recommended that you have all the necessary immunisation and medications before travelling. You can avoid serious issues by drinking bottled water only and not to trust water, even ice, from any restaurant.
Fortunately, in the worst case scenario should you have any health related issue, Chennai is the medical capital of South East Asia. For this reason, Chennai has become a health tourism destination for its hospitals. It's the centre of healthcare and scientific activities, so the city is full of good hospitals and health centres. A lot of medical research is going on, which pulls in the best doctors, from home and abroad, so Chennai's health services are top notch, not to mention the cost of treatment is low when compared to hospitals in the West. For this reason, Chennai draws in a lot of tourists for medical purposes.
The leading government hospitals in Chennai are:
Govt. General Hospital: Park Town, Chennai
Royapettah Hospital: Royapettah, Chennai
Govt. Optholmic Hospitals: Egmore, Chennai
Govt. Kasthurbai Gandhi Hospital for Women and Children: Riplicane, Chennai
Arignar Anna Govt. Hospital for Indian Medicine: Anna Nagar
Govt. Hospital for Thoracic Medicine: Tambaram Sanatorium, G.S.T. Road, Chennai
Durgabai Deshmukh Gen. Hospital and Research Centre: Adyar, near Chennai
Govt. RSRM Hospital: Royapuram, Chennai
Govt. Thiruvateeswarar TB Hospital: Pattalam, Chennai
Govt. Hospital for Women and Children: Egmore, Chennai
Govt. Peripheral Hospital: 2nd Avenue, Anna Nagar West Extension, Chennai
Govt. Peripheral Hospital: Kailasam Street, Tondiarpet, Chennai
Govt. Peripheral Hospital: K. K. Nagar, Chennai
Govt. Peripheral Hospital: Karthikeyan Road, Periyar Nagar, Chennai

Dos & Don'ts
Whenever you're travelling, it's always important to make a note of the Chennai's dos and don'ts. Sometimes it helps make your trip to a new place more pleasurable, but other times it can save you a lot of trouble.
Here's our list on what you should and shouldn't do, and cultural Chennai facts for your next visit.
Do:
     Your research. It's good to have some prior knowledge of the places you'll be visiting in Chennai.
     Learn a bit about the culture before going. Be a responsible tourist and learn how to be amicable and respectful, particularly if you'll be visiting temples or holy places.
     Visit Chennai's monuments. The city has some stunning temples, museums and galleries. Try to get to know the city as much as possible.
     If you're going to travel long distances from Chennai to elsewhere, you'll want to travel by train, it's much more comfortable than the overcrowded buses.
     Try the local dishes!
     Drink bottled water only.
     Eat street food if it's cooked freshly in front of you.
Don't:
     Use fake operators or touts.
     Damage any of the monuments or attractions.
     Enter any of the sights without the proper permission.
     Litter in public places.
     Drink tap water.
And in case you have any more questions about Chennai, our friendly staff is happy to answer them during your stay at Elements Hostel!