Whether you're looking for local Tamil cooking or an Italian pizza, Chennai has it all, and you can find something to cater to any budget, be it luxury dining or street food. Our best restaurants in Chennai will help you make the right choice!
Eating in Chennai on a Budget
Murugan Idli Shop is the place to go if you're looking to try Idli, which is unique to Tamil cooking. This small chain started out in Madurai in Tamil Nadu, but now has expanded to include branches in Chennai and Singapore. The idli discs made with black lentils and fermented rice are often served up with chilli powder, chutney and sambar.
Address: Multiple locations in Chennai
The Fruit Shop on Greams Road is a place in Chennai that will bring back nostalgic memories for former students. This restaurant specialises in fruit juices and shakes, as well as a number of sweet things that are perfect for those hot Indian summers.
Address: Greams Road, Thousand Lights, Chennai
Nair Mess is a hidden traditional Tamil eatery that's rather hard to find, but if you can locate it, then you can get some traditional Tamil cooking in the company of rickshaw drivers.
Address: 22, Mohammed Abdullah, 2nd Street, Near Chepauk Stadium, Chennai
Saravana Bhavana is hugely popular with the locals. As one of the best restaurants in Chennai it's sometimes hard to get a place to sit down at lunch, but it serves excellent South Indian vegetarian food. Even though this falls under the budget category, it's without a doubt, one of South India's best restaurants according to the locals!
Address: 19, Palani Andavar Koil St, Vadapalani, Chennai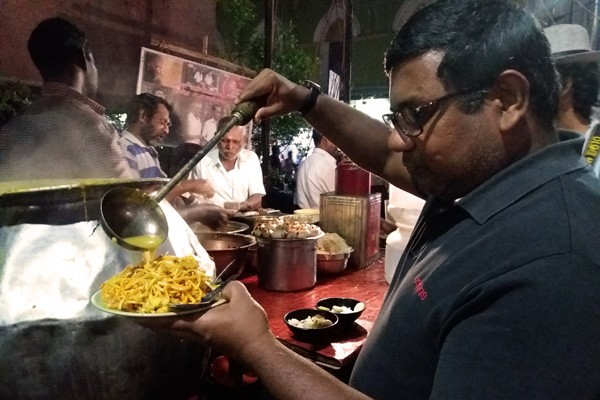 Atho (Burmese noodles) came with Tamil immigrants from Burma and by now are a staple of Chennai's street food scene. There are many place to get them all over the city but the best ones you can get in Parry's Corner.
Address: Errabalu Chetty St, Parry's Corner, George Town
Medium Range – The Best Restaurants in Chennai
Annalakshmi Chennai is great for vegetarians since this restaurant offers a selection of Tamil specialities that are not too harsh on the wallet. It's a good idea to book because this restaurant has become a hit with both locals and visitors alike.
Address: 18/3 Rukmani Lakshmipathy, Egmore, Chennai
Barbeque Nation is an easy dining affair for meat lovers and vegetarians alike. The kebabs here are grilled freshly at the table in an atmosphere that encourages community spirit and fun, the food is quite good too!
Address: Multiple locations in Chennai.
Indulge Yourself: Luxury Restaurants in Chennai
Pan Asian is one of Chennai's newer and more exciting restaurants with a focus on Asian food in general. Whether this covers Chinese, Japanese or Korean, or even Thai or Vietnamese, Pan Asian offers a luxury take on classic Asian cuisine in a designer space in the ITC Grand Chola. Headed up by one of India's rising chefs, this is one of Chennai's hotspots.
Address: ITC Grand Chola Chennai, Guindy, Chennai
Madras Pavilion is also located in the same palatial ITC Grand Chola building as the Pan Asian, but this sister restaurant is a fusion of Indian cuisine with Western and Eastern Roots combined together to create original and unique dishes.
Address: ITC Grand Chola Chennai, Guindy, Chennai
Southern Spice at Taj Coromandel Hotel offers diners the ideal introduction to the cuisine of South India in a luxury setting. With dishes and specials hailing from Tamil Nadu, Kerala, Karnataka and Andhra Pradesh, guests can experience traditional Indian cuisine with a contemporary take.
Address: 37, MG Road, Nungambakkam, Chennai
Dakshin also takes on the spice of the south inspired by the tastes of Chettinad cuisine from Kerala, said to be India's best cuisine. The restaurant follows traditional décor and ambience, and also features live performances of Carnatic Indian music.
Address: Dakshin, Crowne Plaza, Austin Nagar, Alwarpet, Chennai, Tamil Nadu 600018
No matter if you want to indulge yourself or if you need to watch your money, you will definitely not go hungry in this vibrant city. The best restaurants in Chennai are waiting for your, just like we at Elements Hostel are waiting for you with high quality yet budget accommodation.